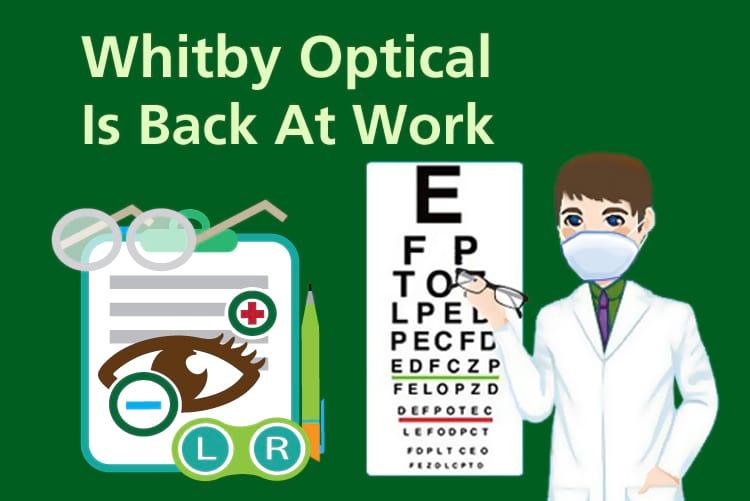 Latest update:
Effective Sunday Dec 19 2021 Whitby Optical will be operating at 50% capacity limit which has been implemented by the province of Ontario and adhering to enhanced PPE requirements set forth by the province and to the guidelines set by the College of Optometrists and the Opticians of Ontario.
We look forward to seeing you and thank you for your continued support during these difficult times. We encourage you schedule a store appointment ahead of time (convenient and time saving online prescreening) or to call us at 905-666-3831 and we will schedule one for you. You can also book a doctor's appointment online. This will enable us to better serve you promptly and safely.
Book A Store Appointment Online
Book A Doctors Appointment Now!
As a health regulated profession and as per recommendations from the respective Colleges of Optometry and Opticians and the Ontario Ministry of Health we have put together a detailed safety protocol going forward keeping in mind the safety of our patients, customers, staff and our community that have to be adhered to minimize the spread of the virus in our community.
We are committed to have the safest experience possible while adhering to our commitment to serve you with the best possible eye care we stand behind that makes us stand apart from most of our competitors during this difficult time and to adapt to the new normal.
Patient/Customer screening before entering the dispensary.




We require our patients and customers to have face coverings of some sort during their visit to the business to make sure we are all comfortable and feel safe working in close proximity should the need arise where social distancing cannot be maintained to offer our services in either completing an eye exam or dispensing eyewear. We have taken measures to minimize procedures that require close proximity to patients or customers and when it is absolutely needed we do it in the safest way possible by maintaining barriers on equipment and use of masks and face shields.




We have set up a hand sanitizing station at entry and exit.




We encourage our customers and patients to attend the business by appointment and limiting the number of people in the dispensary at any given time to no more than is necessary in the circumstances.




We have placed floor signs to encourage and maintain physical distancing while you are in the dispensary.




To maintain spacing and ensure a minimum of 2 meter distance in our waiting areas we recommend you attend your appointment by yourself unless it is absolutely necessary.




We have increased our regular cleaning and disinfecting procedures of common areas and high touch surfaces and objects, such as doors, counter tops, keyboards, touch screens and payment pin pads ( we will encourage you to use tap and contactless payment methods wherever possible)




We have mounted plexiglass barriers on our reception, dispensing and payment counters that are regularly sanitized.




Regular disinfection of all equipment after every use and in between patients with Ministry of Health approved disinfectants.




Cleaning and disinfecting frames before and after they have been handled and tried by a patient or customer.




We will try to provide services with the least amount of contact in terms of remote delivery and remote refills of contacts wherever possible.
These procedures and protocols have been put together for your safety and the peace of mind so you can trust us to take care of your eye care needs in the safest way possible. As we adapt to the new normal we strive to provide the best service possible and we thank you in advance for your understanding and cooperation during these trying times.
Book A Store Appointment Online